By Nate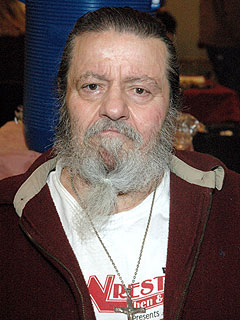 Though I never knew you at all
You had the grace to hold yourself
While those around you crawled
They crawled out of the woodwork
And they whispered into your brain
They set you on the treadmill
And they made you change your name...

Professional wrestling: it's on your TV, in the minds of pre-pubescent males, and occasionally on this blog in video and commentary form.

Growing up, I never caught the professional wrestling magic. I couldn't understand why my friends were reading verses from Stone Cold Steve Austin's bible or why there was a throng of people outside the JCPenny when Goldberg came to town to sign autographs. I did not understand why everyone was so upset about the death of The Undertaker (was that a real shotgun? Did he really break his neck on the zip cord? I don't know. I didn't watch the show.) These were the question I was "wrestling" with in middle school, and I still don't have the answers today.

But alas, "Captain" Lou Albano is dead at 76. He is the top trending topic on Twitter right now, and I have no idea how to mourn this loss.

Before today I didn't know who Lou Albano was. According to this abbreviated obituary at People.com, he was big in the 80's, was in Cyndi Lauper's music video (though I didn't know it when I saw it), and his photo really reminds me of my high school biology teacher who had an aquaponics system in the closet behind his desk.

I'm sure the other OYIT writers and readers will be able to eulogize the Captain better than I can in the comments section, but hey, I saw a wrestler died, and I just wanted to break the story before the other OYIT writers who actually watched this guy on TV.

Addendum:
This is in response to Jake's first comment.

Wait, WHAT? HE WAS ON THE SUPER MARIO BROTHERS SUPER SHOW????? I OWNED AN EPISODE ON VHS! OH MY GOD! I HAD NO IDEA!!!

LLLLLOOOOOOUUUUUUUU!!!!!!!!! I WATCHED YOU SO MANY TIMES AND HAD NO IDEA!!!

RIP, CAPTAIN, R.I.P.