By Glenn
Good morning. The only way we can possibly know it's morning is if it's 8am on the East Coast and this article comes online. To those of you now addicted to the GM posts, I say
Stop the Insanity
! There's no need to be addicted to a blog any more than there is a need to be addicted to eating painkillers, drinking alcohol or betraying your intimate partners. Yet everyone on this site does all three. I hope you caught yesterday's article about "sexting," which is a hot new trend burning up suburban (and some urban) high schools across the country. If you didn't "catch" it, please scroll back down and read it before you start your day with 2 Xanaxes and a scotch.
[I prefer just one Xanax and a Hi-C drink box, myself. It's hard for me to be productive with 2 little Xanax pills running around my system like a miniature Dennis Quaid in Innerspace.]
Today's Weather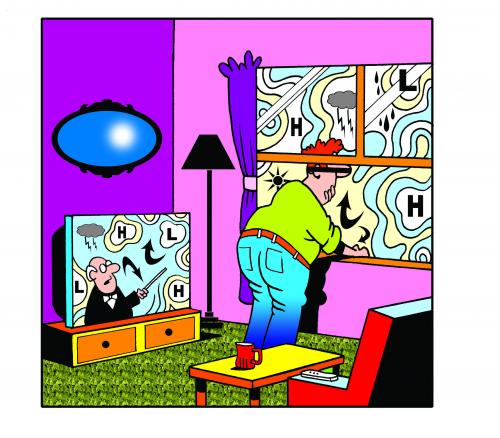 This picture is like the cartoon version of many jokes I've made here in the most cherished of Good Morning sections over the past month. When I first started making jokes about weather maps, I said things like:

It's so cold outside that some of the letters are freezing on the way to your computer from the typewriter I'm using to write this. For those of you in California, please be careful as today two smaller yet proportionally intense hydrogen suns will appear over the San Fransisco and Los Angeles metro areas.


Sure these jokes were funny but the cartoon captures in one image what I've spent every morning trying to do: make you smile about the absurdity of life and the hypocrisy of a weather map. The regular map will be back tomorrow, but just remember: it's February; it's cold most places.




Today's Resume Tip


Like most Americans, I am unemployed but not necessarily unemployable. This creates a gulf that must be crossed using job applications and resumes. Resumes are an important resource to sell yourself to a potential employer in an economy where the idea of hiring more workers is insane. If you're looking to create insanity, you have to be insane yourself - or at least your resume has to imply it. I, for one, use wingdings to list my job experiences and veiled threats.
might seem inappropriate when you type it, but it will definitely grab an HR director's attention (even more so once she translates it back into English). Difficult times call for creative solutions and spicing up your resume is no different.




Today's Prediction


We're going to have to do a lot more resume tips in the future as the US economy starts hemorrhaging jobs at a rate previously unforeseeable. Sure 15% unemployment sounds high now, but what about 50%? Or 80%? Imagine 8 of every 10 people you know not having a job and reading this website all day instead. That's what the future has in store for us...and it actually doesn't sound too bad. Not bad at all.