By GARY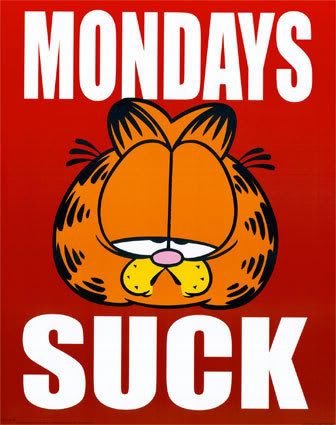 I hate Mondays!

Yes it is Monday and for all of us at OyiT we loathe Mondays. They are awful. Almost as bad as a vacation to North Korea
I hope and pray that all of you make it through this horrible day of the week.

HERE'S a

little

help:


Movie to Watch of the Day:

I don't know how many of people have seen American Movie, but for those who haven't see it now.... and for those who have see it again. I watched this movie a couple years back and I loved it. The movie is; bizarre, sad, funny, and oddly inspiring all at the same time. I recently watched it again after I picked it up at a sweet Hollywood video 10 cent VHS sale and fell back in love with the movie. Here's a clip of Mike, the "co-star" of the documentary talking about his past drug abuse.



WTF!! I don't need to explain the movie any further. I will say YOU WILL fall in love with Mike. He wanted to do LSD. What terrible human being sells this sweet nice guy, or anyone for that matter, PCP and tells anyone that its LSD. LSD can be extremely dangerous but not nearly as dangerous as drug that can make you EAT PEOPLE. Luckily the guy was nice enough to have slipped in a "little bit of downer", so Mikey would calm down before he was gunned down by police after a murderous rampage.



Steve Wilkos video of the day



I do not hide my love-hate relationship I have with Steve Wilkos. He my be a narcissist, judgmental, bully of a person, but boy is his show entertaining.



I think there is no need for a wrestling video of the day.




Music Video of the Day (+bonus)



I LOVE LUPE FIASCO. His lyrics are superb, his flow is silky smooth, and his messages are amazing and he seems to be quite a person.

BONUS INTERVIEW

Hope Lupe Cheers everyone up and cures your case of Mondays.